First Rodeo, Indian Style: A Highlight of Talents and a Spotlight on Social Issues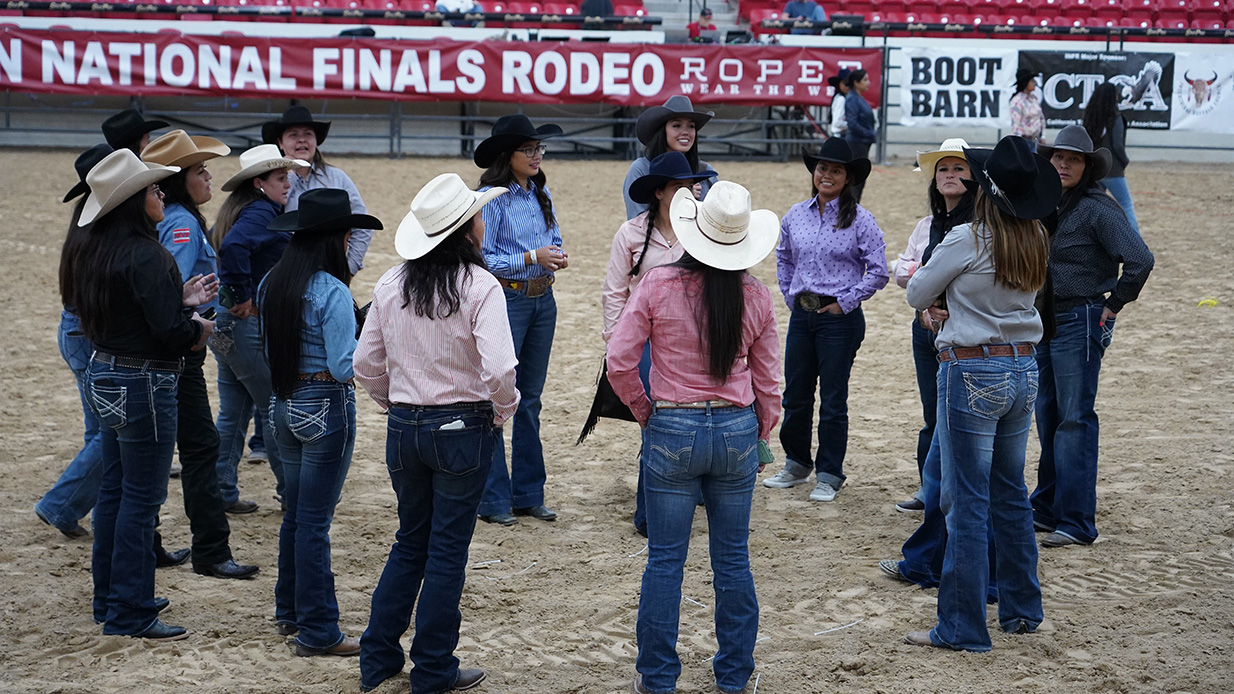 The term "this is NOT my first rodeo", is often spoken when one wants to let someone know, well, that "they know". That a subject is not new to them, and that they are either versed or VERY versed in a topic of conversation, an event, an activity, and so on. For FNX team member Frank Blanquet however, it was literally his FIRST rodeo. Together with Navajo nation tribal member Sahar Khadjenoury and the Shon Wasler group, and through a generous grant from the International Women's Media Foundation (IWMF), Blanquet set off to the Indian National Finals Rodeo (INFR) in Las Vegas Nevada in October of 2022. He was there to cover the event, learn about the sport, the various competitions, skill sets, terminology, and especially to highlight the Native riders. More specifically, the female riders who not only compete in a very demanding and grueling sport but for some, they do so with an underlying message to bring awareness to the MMIW Movement. The pandemic of Missing and Murdered Indigenous Women, Girls, Transgender People and Male community members, is something discussed in depth during the taping of two television programs; Native Hope Champions: Riding for the Missing, and Indian Rodeo: Voices from the INFR.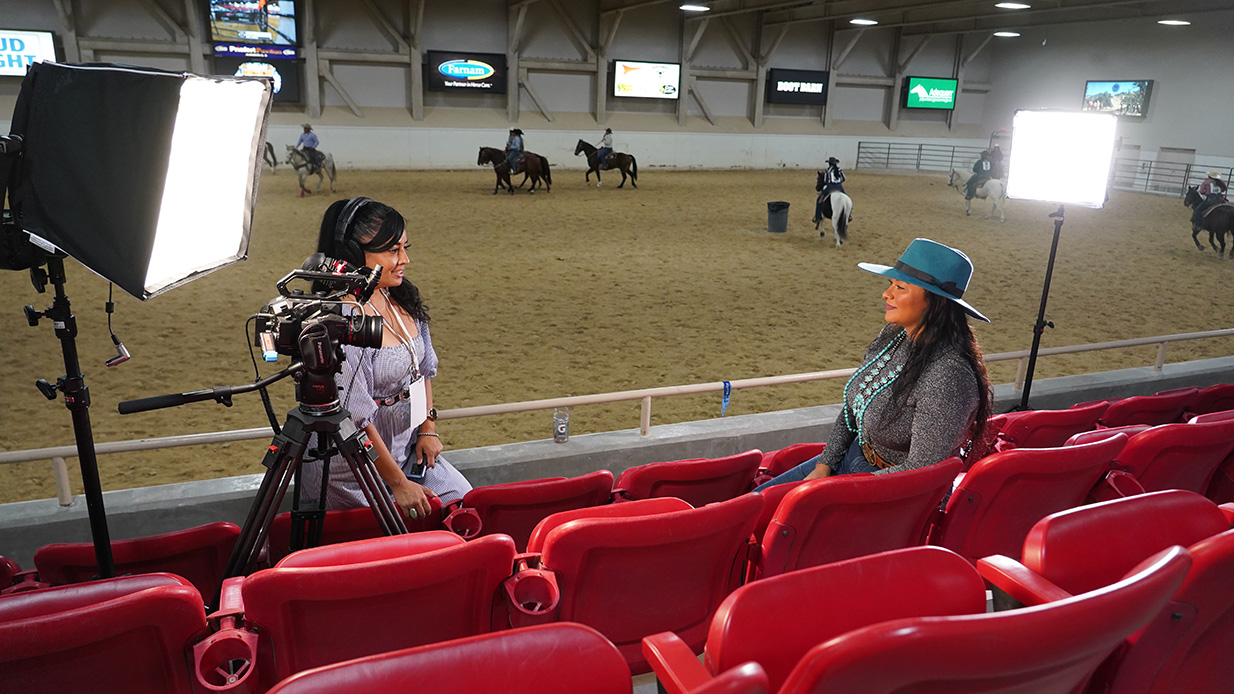 The TV productions were driven by producers Sahar Khadjenoury who grew up on the Navajo Reservation in Aneth Utah surrounded by horses in what can be described as the somewhat of a cowboy culture that was engrained in her traditional Navajo reservation life, and by Blanquet who is Yucatec Maya, and grew up as an Urban Indian in the heart of Hollywood California. Both are veteran journalists, filmmakers, and producers for FNX TV. First Nations Experience Television, the only national television network in the U.S. with a 24/7 dedication to Native American and World Indigenous programming. Riding for the Missing premiered during Native American month (November) and Indian Rodeo premiered in late December on the FNX national broadcast with a reach of 75.5 million households in 29 states across the country. It also was streamed via the Local BTV app available in 48 markets across 28 states, it was broadcast on PBS member station KVCR with a reach of 4.5 million households in the Los Angeles market (DMLA), and simultaneously made available on the fnx.org website. Both programs were heavily supported by social media posts and shares.
As the original stewards of the American continent and despite years of genocide & cultural oppression, Native American people have endured and are engrained in the very fiber of what is known as "American Culture" today. So, it should come as no surprise that like many sports across the country, Rodeo is a mix of colonial practices and Indigeneity. Rodeo culture in part stems from the Vaquero culture and skill set that established its presence in the American West long before the Mexican American War that led to the annexation of territories north of the Rio Grande River. A mixing of horse riding and livestock, Vaqueros transitioned into a Cowboy and Cowgirl culture that became a lifestyle for many tribes across Turtle Island. Today, Rodeo is an integral sport amongst many tribal nations across the country.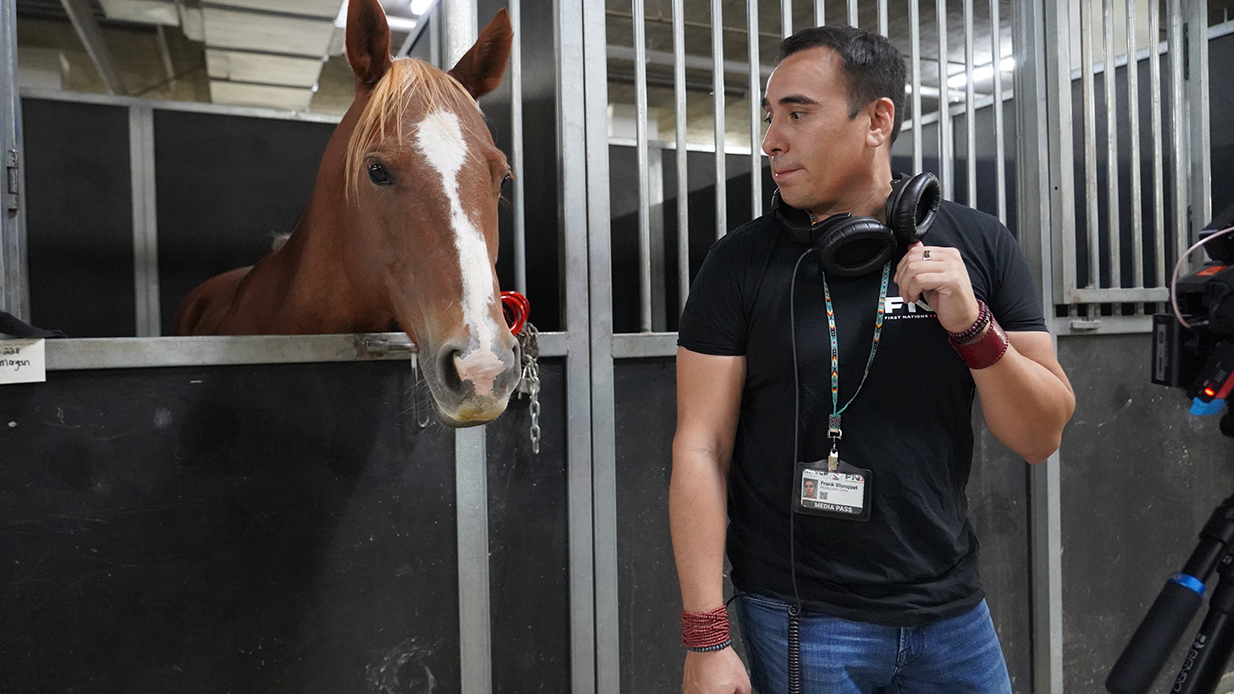 Since the 1970's the Native American Rodeo Circuit, and the largest of its competitions, the annual Indian National Finals Rodeo (INFR), have been showcasing Native riders, striving to place them on par with competitors in mainstream National Rodeo Championships. According to INFR, the involvement of women and girls in Indian Rodeo has been steadily increasing since the early 1990s, and while mainstream American Rodeo circuits have long been a venue dominated by white contestants, recent years have seen more Native American competitors showcased at such events.
As Native women took the stage at the INFR event in Las Vegas, and in some instances went on to compete in mainstream non-Native competitions, some did so in advocacy for raising awareness for the Missing and Murdered Indigenous Women (MMIW) movement. These riders believe the Rodeo circuit is a stage that not only showcases their talents as Rodeo competitors, but also affords them an opportunity to amplify their social media advocacy on sites such as TikTok, YouTube and Instagram to bring the MMIW pandemic to the forefront. In an interview with Khadjenoury, 2022 INFR Champion Bailey Bates (Diné) discusses the importance of dedicating their Wednesday show as Red Shirt Day, a reference to the international symbol of the MMIW movement. Bates, who remarkably took the title on her final ride of a close competition, said "I travel alone with my horse and my dog, and I think spreading awareness of MMIW is something that is really important, and I am grateful that the INFR is putting a spotlight on it because our safety should be our number one concern and our priority, especially being Native Women."
The abuse of Native Women has been an issue in the Americas since the first colonizers stepped foot on this continent. The establishing of man camps for the purposes of drilling, extraction, construction, etc., have shown a correlation in an uprise of missing women who may be victims of sex trafficking rings. By raising awareness through venues, like the Rodeo circuit which sometimes has attendees that live on such established camps, the Rodeo circuit can be an untapped resource to help combat the MMIW pandemic through the education of people interested in this sport. For Barrel Racer Shayla Conner, who had a 5-page spread in the March 2022 issue of Cow Girl Magazine the MMIW movement is something that she has been advocating for since the disappearance and murder of her cousin. Conner who is Northern Cheyenne used the opportunity Cow Girl Magazine afforded her to reach 1,140,000 consumers of their content and addressed the MMIW issue in the story and in the photography shoot to "hopefully make a difference."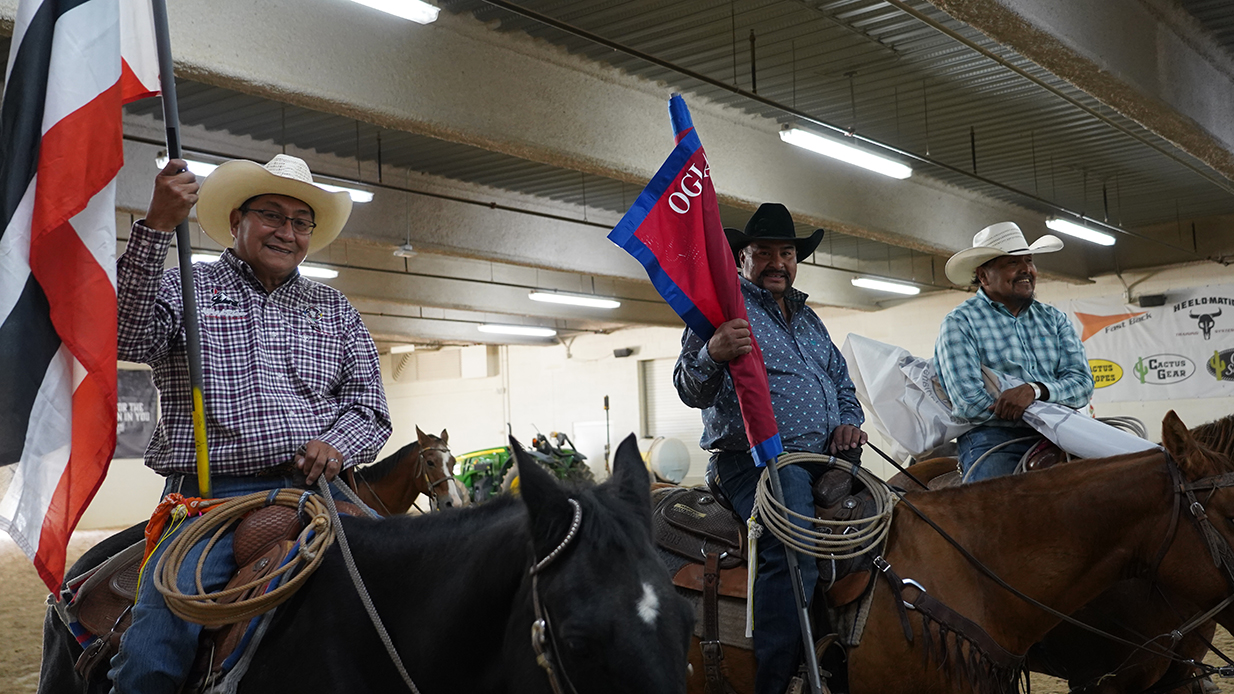 "People need to understand that its happening a lot more to Native American women, and that's what I am, I can go Missing" Conner said during her interview with FNX. Conner who is the 2021 and 2022 WYO Rodeo Queen participates in Barrel Races in Rodeo circuits across the country with a Red handprint on the back of her horse. With the help of the IWMF Fund for Indigenous Journalists reporting on Missing and Murdered Indigenous Women, Girls, Transgender and Two-Spirit persons (MMIWG2T) the FNX team was able to amplify Shayla Conner's voice and tell the stories of the brave Native Women who are competing and thriving in the Rodeo circuit and adamantly using the spotlight of such a competitive stage to help combat the MMIW pandemic.
But it is not just women who are taking this stand. Kirby Spencer (Diné) is amongst the male Rodeo riders who dedicate their work to the MMIW awareness campaign. Spencer made it to the final round as a bareback bronc rider at the 2022 INFR, but he is also fashion designer traditionally trained in weaving and sewing from his mother and grandmothers. His design work has been displayed nationally and internationally and a dress he designed as a tribute to Missing and Murdered Indigenous Women was worn at a New Mexico Film Foundation's Red-Carpet event by actress/activist Rachel Thunder (Cree). Speaking on the subject of wearing red at the Indian Rodeo, Perse Hooper Lewis (Yomba Shoshone), Marketing & PR Person for the INFR stated, "It's great to see everyone wearing red, and it's not just the women, I really want to say that for us as a community, the men support and understand, and I think its really important."
This Riding for the Missing story was not just shared as a visual piece. The story aired on NPR Radio station KVCR 91.9FM and is being offered to all PBS stations across the country both for on-air broadcast and on their digital tier.
"This reporting was supported by the International Women's Media Foundation's Fund for Indigenous Journalists: Reporting on Missing and Murdered Indigenous Women, Girls, Two-Spirit and Transgender People (MMIWG2T)."
More Info at iwmf.org
instagram: @theiwmf
YouTube: theiwmf
Twitter: @IWMF
Facebook: IWMFpage
Links:
Native Hope Champion: Riding for The Missing
Indian Rodeo: Voices from the INFR