Authorities Will Not Recover Bodies of Missing Indigenous Women from Manitoba Landfills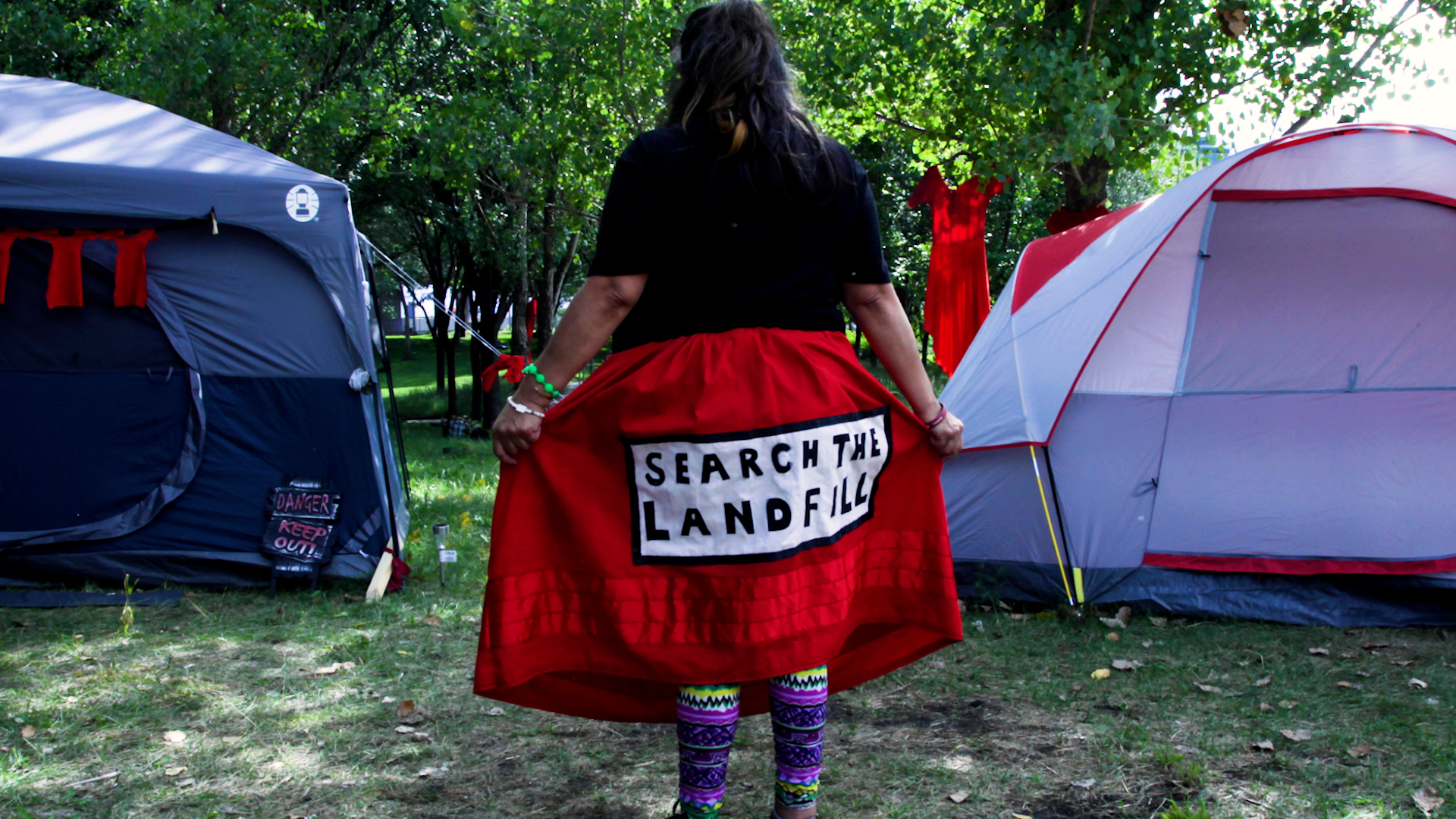 Winnipeg, Manitoba, CAN.
On a grassy area behind the Human Rights Museum on Route 57, just as Provencher BLVD crosses over the Red River in Winnipeg Manitoba; Lies Camp Marcedes. The camp, named after Marcedes Myron, exists to take a stand against local authorities who have decided not to search for and recover the bodies of murdered indigenous women, whom they believe were dumped in local landfills. The encampment is made up of protectors, defenders, and family members; more often referred to as protestors by the non-native media outlets that have given them attention.
Speaking from Camp Marcedes, Wabishka Maiigan (Anishinaabe) spoke to us about his presence at the camp. "I'm here is because we demand justice. And we are the voice for those families that are tired and sick of the way the government's treating them" Maiigan said.
Behind Wabishka Maiigan were several Red Dresses suspended by trees. Similar displays line areas surrounding the campsite, swaying in the wind as a representation of the thousands of Indigenous women who have gone missing, or have who have been confirmed murdered.
"Our sisters are in the landfill. We go back to Tonya Nepinak back in 2012, where she was dumped in the landfill here in Winnipeg, Manitoba." Maiigan continued, "and you compare that with the man that was found at the Toronto landfills. Took eight months for the Toronto Police or the federal government to find the man that was missing."
Maiigan referenced the 8-month search for Nathaniel Brettell, a 57-year-old Caucasian man whose body was recovered from a half-mile square acre landfill in Toronto. In contrast, Manitoba Authorities have refused to continue searching in a significantly smaller 200 by 100-meter space at the Prairie Green landfill, citing health risks for workers. Some community members believe race to be a factor, and are suspicious of their decisions, and their motives.
"They just keep coming up with excuses, one after the other, it cost too much or there's asbestos" said Gold Star, a fire keeper at Camp Marcedes who also spends time at Camp Morgan near the Brady landfill. He spoke to us from Camp Marcedes. "Any common sense person would want to search it, it doesn't matter whose child it is, it's a child, and they're in there, and we got to get them, we can't leave them" Star said. Camp Morgan was set up in honor of Morgan Harris.
Both camp Morgan and Camp Mercedes aim to put pressure on the authorities to alter their decision not to recover the bodies they suspect are in the Landfill. But there are local community members that agree with those decisions. An unidentified passerby who claimed to be Métis from Red River, is opposed to the cost and risk of a search but offered thoughts on an alternative.
"With the searching of the dump, for $184 million, and possibly injuring or hurting people that are going to be searching it, why not just close it down? Make it into a memorial park for these women and have it as your land and then have the government give the owners of the dump some land somewhere else and we just shut it off."
The passerby would not directly answer if he would feel the same if it was his own daughter being left in the landfill. Instead, he said the tragedies like this happen, and cited Canadian Prime Minister Justine Trudeau's brother Michael Trudeau who was lost in an avalanche. However, in that instance the search for Trudeau's body was only called off after extensive efforts to find him.
Pamela Myran (Long Plain First Nation) whose daughter Marcedes Myran is believed by police to be in the Prairie Green Landfill took offense to the passerby's comment "you need to start looking after your children."
Pamela Myron responded by saying "I'm fighting for my baby to have a proper burial. I'm fighting for all those people to have a proper burial. What are we supposed to do put flowers in that landfill?"
Pamela described to us the day police told her Mercedes' body was in the landfill. "December 1st they came with the, you knows the guys who find people [speaking about a search team], and said she was in a landfill. And I know where she is, they know where she is, but they don't get her out."
In December of 2022 authorities charged suspected serial killer Jeremy Anthony Michael Skibicki for the murders of 4 Indigenous woman; killings they believe took place between March and May of that year. Mercedes Myron, Morgan Harris, Rebeca Contois and an unidentified victim known as Buffalo Woman are among his known alleged victims. Only Contois body has been recovered.
A feasibility study published in August believes risks can be mitigated and proposed a pathway with high probability of recovery. We reached out to Media Relations for the Winnipeg Police Department, but they did not directly respond to questions about their continued stance not to search the landfill.
Manitoba Premiere Heather Stefanson's office directed us to the province's website www.gov.com, and gave us a contact number for communications and stakeholders, but did not directly comment about the camps. However, Stefanson has stated in the past, that she would not support a landfill search, despite calls to reconsider from the Assembly of First Nations, a political organization of chiefs representing first nation citizens.
Both Camps Mercedes and Morgan plan to remain in operation until the Landfills are searched, and the bodies of all the women can be laid to rest in proper burials. Pamela Myron shared with us a chilling prediction from her daughter Marcedes.
"Before my daughter died she told me she was going to be famous; I'm just gonna bring everybody out she said."
Should the camps be successful in getting the landfills searched and should that lead to the discovery of other missing women, it will be the silent voices of Marcedes Myron, Morgan Harris, and Buffalo women, the help make that happen.
This story was produced in partnership with:
Antonia Gonzales (Navajo), anchor and producer of National Native News and Managing News Editor for Khoanic Broadcast Corporation.
Rhonda LeValdo (Acoma Pueblo), Host of Native Spirit Radio on KKFI, Kansas City.
Darren Brown (Cochiti Pueblo,Choctaw), Senior Producer at Cheyenne and Arapaho Television in Concho Oklahoma.
Story written and produced by Frank Blanquet (Maya), Producer, Director of Television at FNX, First Nations Experience Television.